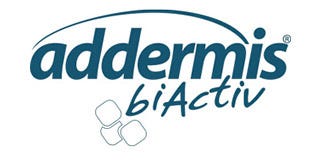 Addermis BiActiv® is a professional care range that cleans, protects, and helps to care for damaged or delicate Adult skin that results in dryness, skin degradation, redness, cracking or, in extreme cases, ulcers.
Our complete professional care range includes protective cream, protective oil, wet wipes, moist mitts, dry towels:
Addermis biActiv adult dermo-protective cream is a soothing lotion that promotes skin regeneration of reddened or chapped skin, helping to significantly reduce irritation and to prevent the formation of ulcers. Its formula contains aloe vera and essential fatty acids that work together to care for skin, all within a light, easy-to-apply cream that can be used on hands, heels, buttocks, or other areas prone to skin irritation.
Addermis biActiv dermoprotection oil comes in a convenient moisturizing spray specially designed for frictionless application that coats the surface of the skin with a thin film, preventing water loss and dehydration. Its active ingredients increase and reinforce skin's barrier effect, promote natural skin regeneration, and sooth damaged skin. Indicated for large areas of Adult skin.
Addermis biActiv wipes are designed to clean and care for even the most delicate and sensitive areas of skin. These large sized wet wipes for adults (30cmx30cm) contain allantonin and have emollient and anti-inflammatory properties that soothe and calm the skin as they clean.
Addermis Biactiv products are found in Pharmacies and Para pharmacies in Retailers in Spain and other select markets.
Learn more in our website: www.indas.com
* our brands are protected as trademarks in the markets we use them