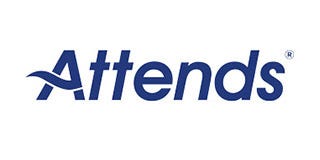 Attends® has offered branded products for people with bladder weakness and incontinence for more than 40 years. The Attends® brand is built on the pillars of Care, Comfort and Confidence. Care to provide the protection you need, Comfort to offer a feeling of relief and Confidence to trust in a reliable product created for you to maintain your lifestyle and dignity.
Launched in 1980, Attends was one of the first body-worn disposable briefs to be marketed and sold in North America and Europe. As the pioneer in the product category, Attends helped to remove some of the negative stigma associated with incontinence from day one and continues with a leading voice to make the topic of incontinence more mainstream.
Our highly specialized offering includes a diverse portfolio to fit the lifestyles and needs for individuals of all ages, genders, activity levels and stages of incontinence: Protective Underwear/Pants, All-in-One/Briefs, Shaped pads, Belted briefs, Pads, Shields, Fixation Pants, Underpads and an assortment of complementary care products like creams and wipes. This helps users and caregivers to quickly and easily find the product that is right for them. Visit our Products pages for more information about each type of product.
Attends develops products from start to finish, with hundreds of people involved in the process of turning consumer needs into unique personal care solutions. We conduct marketing research, utilize some of the best and most innovative materials in market, design beneficial product features, and run laboratory testing & clinical trials to ensure we're creating the best product for both users and caregivers.
As a growing brand in Europe and North America, our products can be found for use at home, in nursing homes, and in hospitals. And as our specific assortments do differ by country, please visit the country-specific brand sites to learn more:
USA: www.attends.com
Europe: www.attends.eu
Belgium: www.attends.be
Germany: www.attends.de
London: www.attends.co.uk
Sweden: www.attends.se
Norway: www.attends.no
Netherlands: www.attends.nl
France: www.attends.fr
Switzerland: www.attends.ch
Austria: www.attends.at
Australia: www.attends.com.au
Czechia: www.attends.cz
New Zealand: www.attends.co.nz
* our brands are protected as trademarks in the markets we use them